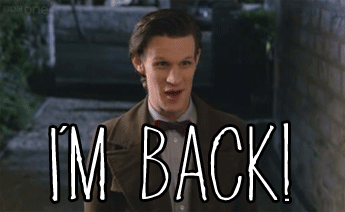 Hi everyone! Can you believe March is almost over already? March was such a busy month that it definitely flew by, and now Dutch Comic Con is this weekend and my (national) exams are in six weeks! I don't know how active I'll be next month as I will be preparing for said exams, but I'll definitely be more active than these past two weeks. This was my last ever testweek at this school though! Which feels odd but also great of course! I think it went well, so now I can just enjoy my weekend without too many worries. I hope you all have had a great week (or two, as that's how long I was gone though I had a few posts scheduled) and I will be catching up on all the blogposts I've missed!
As for my own blog, the nominating for The Book Awards is almost over so you can expect a post on that soon (probably this Monday), I still need to review Heir of Fire (which I'll probably do in one post with The Assassin's Blade which I still haven't finished yet- damn that stupid testweek), I have tags/awards to catch up on and there are quite a few ideas floating around in my head that you will see on the blog soon! (I hope).
Just wanted to let you guys now I'm alive and well (though a bit tired, but not as tired as last time) and that The Writing Hufflepuff is back in action with more posts and comments!
– The Writing Hufflepuff