Genre: Middle Grade/YA (not sure?? Suitable for both though) | Fantasy
Series: The Trials of Apollo #1
Goodreads rating: 4.40
My rating:  ★★★★★
How do you punish an immortal?
By making him human.
After angering his father Zeus, the god Apollo is cast down from Olympus. Weak and disorientated, he lands in New York City as a regular teenage boy. Now, without his godly powers, the four-thousand-year-old deity must learn to survive in the modern world until he can somehow find a way to regain Zeus's favour.
But Apollo has many enemies – gods, monsters and mortals who would love to see the former Olympian permanently destroyed. Apollo needs help, and he can think of only one place to go . . . an enclave of modern demigods known as Camp Half-Blood (Goodreads).
Definitely one of my favourite books of the year, which I'm so glad about. While I enjoyed Magnus Chase and the Sword of Summer last year, it didn't really blow me away. The Hidden Oracle on the other hand was such a joy to read! I loved that a big part of the book took place at Camp, which didn't just feel familiar but was also kind of new because usually the characters leave Camp pretty quickly to go on a quest.
Apollo had always been one of my favourite Olympians, because he's hilarious. I can see why some people might dislike him, but his character development in the book was amazing. I won't go into it too much, of course, because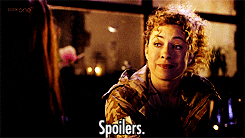 But it was one of my favourite parts of the book, besides the humour, the haiku chapter titles, seeing familiar faces, the friendships, Apollo bonding with his kids… And of course a certain couple…
Okay basically I just loved it a lot. Also that ending. Seriously if you love Uncle Rick's books just read this. I can't wait for the next one.
This is a really short review for several reasons: 1) I should've reviewed this sooner, but I thought I already had? 2) I don't want to go into too many details and spoil you 3) mostly the first reason though
Have you read The Hidden Oracle yet? What did you think of it? Are you excited for the next one as  well? Let me know in the comments!