Thank you Holly, Jesse, Rachel and The Jouska for tagging me! Also sorry to the first three that it took me this long. And don't forget to check out all their blogs!
The rules
Thank and link the blogger who nominated you.

Answer the 7 questions the nomination has provided.
Nominate 7 other bloggers.
Create 7 questions for your nominees.
Sorry but I'm lazy 🙈
Holly's questions
1. Who is your celebrity idol at the moment?
Ooh that has to be Dove Cameron. She's such a sweet and inspiring person, yet also incredibly talented.
2. What book would you recommend your celebrity idol?
Oh I actually don't know! If she hasn't read The Perks of Being a Wallflower yet, maybe that one. I'd recommend that to almost everyone, but I also think she'd really love it.
3. What Hogwarts House would you be sorted into?
4. If you could go anywhere in the world for a week-long vacation, where would you go?
EVERYWHERE. Okay but seriously, like I said before in one of these tag posts, I really want to go to Japan. I think I'd need at least a week to explore Tokyo so let's go with that one haha.
5. What is your favourite month of the year?
Hmm June maybe? It's the end of the school year, it's not that hot yet, summer holidays are around the corner, it's my birthday month, other family members and friends have their birthday in this month as well, which means I'll definitely see them and other family members… Yeah I'm going with June.
6. Would you rather only be able to read for the rest of your life or write?
THIS IS SUCH AN UNFAIR QUESTION HOLLY. I DON'T KNOW. I WANT BOTH.
7. What book are you currently reading?
Ooh tough one since this will be scheduled. As I'm writing this at the end of August I'm reading Persuasion by Jane Austen and rereading Harry Potter and the Prisoner of Azkaban. Who knows what I'm reading once you're reading this post. Maybe nothing because of school.
Jesse's questions:
1. You've committed a crime and are going to jail for life. The judge allows you to bring three books with you and those are the only three books you'll be reading for the rest of your life. Which three are they?
Oh my God what did I do did I murder someone? Uh okay so I'll bring Harry Potter and the Philosopher's Stone (though hopefully they've published all the books into one book by the time I'm going to jail so I can cheat – this cheating attitude is what will land me in jail isn't it), The Perks of Being a Wallflower and Carry On.
2. You've been in a relationship with your man/women and things are getting serious, but out of the blue they ask you to choose them or your books. Which do you choose and why?
HAHA BYE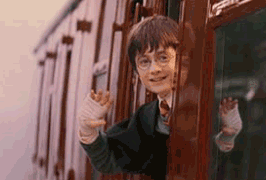 I don't even want to be with a person who makes you choose between them and something you love??
3. You're being held at gun point but the shooter says he will set you free if you burn three of your books. Which three would you choose?
I want to know the backstory of this shooter. Does he just break into people's houses and make them burn some of their books? Why? Does he have some kind of vendetta against books? I'm seriously intrigued. The books that I didn't enjoy recently are so pretty though: Uprooted, A Thousand Nights and The Crown's Game. They're all gorgeous hardbacks whyyyy.
4. There is a new law coming into effect. It bans (insert genre here) genre from ever being read/written again. Which genre would you choose?
Okay but I'd feel bad because there are people who love and enjoy every genre. I personally will never pick up erotica, so if I HAD to choose, like that shooter from question 3 comes back, I'd choose that, but I'd feel bad for the people who enjoy it.
5. With wanting more diversity in books nowadays, what is one aspect you believe should be represented more and why?
There just should be more non-white and non-straight characters for starters. Oh and we need more HEALTHY relationships
6. Your favourite author is going to call you for a once in a lifetime chance to talk. You can only ask them one question. Who is the author and what is the question? Why?
THIS IS GIVING ME SO MUCH STRESS. WHY WOULD J.K. ROWLING CALL ME. HOW DID SHE GET MY NUMBER. WHAT WOULD I ASK HER. I DON'T EVEN KNOW. OH MY GOD I WOULD BLOW THIS ONCE IN A LIFETIME CHANCE #RIPME
7. Hero, Assassin, or Prince/Princess? You can only pick one. Which do you choose to be in a story with you as the main character?
Hero I guess? I would definitely not want to kill people for a living and being a princess would be boring. Though heroes sometimes have to kill too and I don't want that. ADVENTURE THOUGH
Rachel's questions:
1. Do you have a favourite reading spot?
My bed, maybe. It doesn't matter though. As long as I can read and am at least a bit comfy.
2. Are there any movie/TV adaptations you like more than the book?
Okay so this is an unpopular one, but I really think I prefer Shadowhunters over the books? I know they're not perfect, but the books are quite problematic. They'll always have a special place in my heart and they were fun to read, but I really love the show more than the books
3. What was your favourite book as a kid?
Ooh that changed all the time, but one of them was definitely Pluk van de Petteflet, a Dutch children's book. It's been translated into English as 'Tow-Truck Pluck'
4. Do you make/listen to book playlists?
I used to listen to them, but 8tracks now only works through Youtube for me and A LOT of songs are skipped because of this, so I can't listen to them anymore (#RIP8tracks I miss the site you used to be). The playlists I make are for my own books
5. Do you have an favourite publishers?
Not really, I never really pay attention to the publisher
6. What do love most about blogging?
Meeting so many lovely people and making friends for life <3
7. Shelfie?
The Jouska's questions:
1. What's the story behind your blog name?
I love to write and I'm a Hufflepuff
2. Do you plan your posts before writing them or are you more spontaneous?
Sometimes I plan them, like when I wrote my Kpop Songs That Make Me Want To Write All The Things posts, in that I chose the songs beforehand or with my Bookish Pop Funkos I Need in My Life post I thought up which characters I'd like to see as Pop Funkos before writing it, but usually I'm more spontaneous.
3. Is there any book that you could read over and over again without getting bored?
The Harry Potter books of course, but also The Perks of Being a Wallflower, Percy Jackson, The Heroes of Olympus, Fangirl, Carry On, Anna and the French Kiss and Lola and the Boy Next Door.
4. Who's your favorite Talk Show host?
Graham Norton
5. Would you rather read the book first and then watch the movie or vice versa?
Read the book first! Though of course sometimes it happens the other way around. Like with Percy Jackson; I had no idea it was a book when I saw the first movie at the cinema. See, the movies are good for something
6. Have you ever gotten the opportunity to meet your idol? (It can be anybody, a celebrity, author, singer, and so on.)
Nope
7. How many languages can you speak?
Dutch and English. I recently removed Spanish from my resume because who am I kidding. I've forgotten most of it since I took my final Spanish exam.
Sooo if a shooter made you burn three books, which ones would you choose? Let me know in the comments!