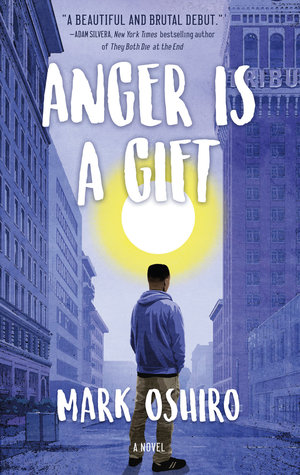 Author: Mark Oshiro
Genre: Contemporary //  YA // LGBTQIAP+
Goodreads rating: 4.42
My rating: ⭐⭐⭐⭐⭐
Six years ago, Moss Jefferies' father was murdered by an Oakland police officer. Along with losing a parent, the media's vilification of his father and lack of accountability has left Moss with near crippling panic attacks.
Now, in his sophomore year of high school, Moss and his fellow classmates find themselves increasingly treated like criminals by their own school. New rules. Random locker searches. Constant intimidation and Oakland Police Department stationed in their halls. Despite their youth, the students decide to organize and push back against the administration.
When tensions hit a fever pitch and tragedy strikes, Moss must face a difficult choice: give in to fear and hate or realize that anger can actually be a gift.
Disclaimer: I was given an ARC of this book by Netgalley and the publisher (thank you!) in return for an honest review
Honestly I don't even know where to start I'm so blown away by this book. I'm honestly kind of disappointed at the lack of hype surrounding this one? I've barely seen it around and hadn't even heard of it when I stumbled across it on Netgalley. Let me tell you: Anger is a Gift deserves all the hype and more. It's incredible, intense, heartbreaking, yet also shows family, friends and an entire community having each other's back, fighting for each other and always, always being there for one another.
Anger is a Gift is very graphic, and just gets more and more graphic as the book continues. The police brutality described just gets worse and worse, and gets described in some detail, which is something you should know going in if this triggers you. That said, it's an incredibly important read and Oshiro has clearly done so so much research, making this incredibly realistic and brutal.
Moss watched his father get shot right in front of him by a police officer, leaving him with severe PTSD (it's never stated that Moss has PTSD, I read it this way myself) and panic attacks, which is described really, really well. He's also left with a lot of anger, naturally, which only increases in the book, but as the title of the book states 'anger is a gift', and Moss learns that his anger is not a bad thing, and that he could use it to try and change things. Moss' character development is incredible: he went from not wanting to be anywhere near a protest because of his panic attacks to pretty much leading a movement.
While the entire book is very intense, it's not all heavy stuff, especially when it comes to Moss' family and friends. His relationship with his mother is so heartwarming to read: they share everything and are very open; something that all characters were with each other. They all just discussed everything, had no secrets for each other… It was so refreshing to see. Plus all the parents actually being involved!
"You realize how lucky I am that my son is one of my best friends?"
And then there's his friends, who are absolutely amazing. These kids would do anything for each other – which they did. They always had each other's back, no matter what. They went through hell for each other, and they'd do it over and over again. Also I loved how diverse (none of them are white) and queer they're group was, without anyone seeming like the token anything. Moss himself is gay, Esparanza is a lesbian, Reg is disabled, Kaisha is ace, Njemile is trans (and has two moms!), Bits is nonbinary and Rawiya is a Muslim. They're so unapologetically queer and Oshiro has gotten the queer friends group thing so right – the way they talked about their sexualities and gender identities, joked around etc. all felt very realistic and similar to me and my friends. While of course they face discrimination, the people that matter never give them a hard time and are very accepting and supportive, which was great to see.
And oh, oh my god the romance. The romance is just so good I'm still broken over it. It starts out very awkward yet also very cute, and just very realistic? The entire romance was – neither of them had been in a relationship before, neither knew what to do.
Another burst of nervous energy flushed through Moss' body. "Yes," he said. "I mean, no!" He blurted it out, then shook his head. "Please sit down," he finally said, certain he had embarrassed himself beyond repair.
(I made a note on my Kindle app about this that just says 'Useless Gay™')
As I said, all characters were very open with each other, and Moss and Javier were no exception. They shared their doubts with each other: doubts about themselves, but also doubts about the relationship because they were both clueless cinnamon roles. Moss felt so safe with him, sharing his insecurities and Javier making sure that he never felt that way. They were absolutely lovely. While they were never really friends before the romance developed, it still felt very much like the relationship was built on friendship. Also everytime Javier kissed Moss on the cheek I died.
Anger is a Gift  is a powerful, incredible, critical look on how rooted racism is in America and the corruption of the police. The ending is so powerful and heartbreaking, because it's very realistic. I highly encourage you to read Oshiro's author's note, as it made the book even better (if that's even possible).
I could never do this book justice. There are no words to do so, but I hope you're going to pick this up, because Anger is a Gift is really important, touches on so many important issues that I can't even begin to list because then we'll be here for a while, and is just a must-read for everyone.
Have you read Anger is a Gift? Are you planning too? Let me know in the comments!