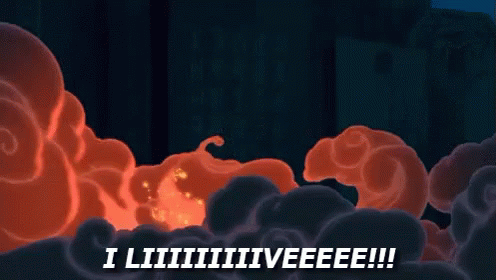 That's me right now. I know I didn't disappear on the blog* but it's how I feel because ugggh exams are next week and I'm dead. I don't even know how I'm writing this post right now. Planning exams during Pride is homophobic tbh
ANYWAY. Today I thought I'd talk about some LGBTQIAP+ books that I want to see follow in Love, Simon's footsteps. Hopefully it opened doors for many other great YA books with LGBTQIAP+ leads to follow *fingers crossed*
* I did skip a weekly wrap up but I mean,, I do that all the time so
Queens of Geek
Obviously I want to see one of my favourite books of all time on the big screen, but I mean?? That rep though?? The two leads are a Chinese-Australian bisexual girl (Charlie) and a fat, autistic girl with anxiety (Taylor)?? And Charlie's love interest is a black girl (Alyssa*)?? Both romances are adorable, but Charlie and Alyssa's first date?** ICONIC. ADORABLE. NEED TO SEE THAT ON THE BIG SCREEN. Taylor and Jamie were adorable and so healthy too though! It's a super fun and cute read (it takes place during a convention!) but it also addresses so many important topics adgnjs I just love Queens of Geek and I need to see it adapted asap ok pls thank u
* I don't remember her sexuality and I hate myself
** Don't quote me on this I remember it as their first date but hey maybe it was their second I haven't had the time yet to reread this beauty because exams ugh
The Gentleman's Guide to Vice and Virtue
SO APPARENTLY GREG BERLANTI, DIRECTOR OF LOVE, SIMON, HAS SHOWN INTEREST IN THE GENTLEMAN'S GUIDE AND MAKING ALL MY DREAMS COME TRUE. Okay so apparently he's planning on making it into a tv show and I know this post is about movies but?? Idc?? A tv show would be even better because MORE of my kids. I haven't gotten around to reviewing this yet which is,, offensive tbh,, but I want to reread it first because I barely remember anything. But!! The protagonist Monty is bi, his love interest is a black boy who has epilepsy and Monty's sister is most likely ace*. The book touches on so many important topics like racism, sexism, ableism and so much more. Also PTSD rep! Plus it's just super fun (road trip! friendship! siblings! pirates! shenanigans!) and the romance is great?? Wow I am not doing this justice curse my bad memory
* I don't know if this has been confirmed yet or if we have to wait for her book to come out since I'm very out of the loop
Anger is a Gift
I've already talked about how good Anger is a Gift is and why you should read it in my review here but seriously you need to read it? And it would make an INCREDIBLE film. Anger is a Gift is a very powerful look on police brutality and just like The Hate U Give will open so many eyes. I really hope studios won't think 'we already have The Hate U Give' so we don't need to adapt AIAG as well because boy we need so many more movies on police brutality. It's also super diverse: none of the main characters are white, many LGTBQIAP+ identities (multiple trans characters AND a nonbinary character? I was shook), a disabled character, a character with PTSD, a muslim character… We need this movie okay
Cinderella Boy
Okay so I haven't reviewed this yet (I will! Though more towards the end of the month) but this would be such a cute Disney Channel like movie? I say 'like' because I doubt Disney Channel is ready for a Cinderella retelling with a genderfluid main character and a queer Prince Charming. But yeah, this would be such a cute, empowering movie? Plus queer kids fighting for their rights!! There are moments of injustice in this book that will make you mad of course, but in the end it's also a 'feel good' book as it shows these kids supporting each other and fighting against bigotry, and *spoiler, though it's very much a fairytale so a happy ending is to be expected* they win! Plus that epilogue is perfect and would make such a cute ending scene
Tash Hearts Tolstoy
I just finished this one and immediately thought of putting it on this list because asexual protagonist! If Tash Hearts Tolstoy were made into a movie it could really teach people about asexuality and give ace teens great rep, while at the same time it would be a really fun movie about a bunch of kids adapting Anna Karenina into a webshow (it could switch between the main storyline and their webshow?). Tash Hearts Tolstoy isn't about Tash's asexuality, it's just a part of who she is and of course of the romance. If done right it could break harmful stereotypes and ideas about asexuality and help so many ace kids. If you haven't read Tash Hearts Tolstoy yet, it's up for free on Riveted during the entire month of June!
Autoboyography
Autoboyography shows a gay mormon kid coming to terms with his sexuality and is really respectful towards religion – it really shows that the authors did a lot of research. I think Autoboyography could really help a lot of LGBTQIAP+ religious kids, while it also has great bi rep. While it can get pretty intense it's also just beautiful, fun and cute and would make such a heartfelt movie. I was honestly blown away and haven't been able to fully gather my thoughts yet. I've mentioned before that Autoboyography is up for free on Riveted this month, but in case you missed that or forgot go grab your chance to read it!
Did I even do any of these books justice?? I feel like I just gushed because I love them all a lot and writing cohesively is hard. If you haven't read any of these yet, I highly recommend all of them. I loved the rep, the characters, the stories, the queerness, the writing… Just everything okay?? I need all of these as movies and not just for selfish reasons but let's be real here, movies have a far wider reach than books and these stories and characters are so important. If any of these get adapted I will cry
Part two hopefully coming soon, because I have a lot more LGBTQIAP+ books I want to see turned into movies that I need to talk about
Have you read any of these? Which LGBTQIAP+ books would you like to see turned into movies? Let me know in the comments!