Y'all I'm so sad Pride Month is over??? It went by so fast I blame exams because I couldnt' fully enjoy it because of them but on the plus side those were probably my last ever exams??? SO YAY
💛 Cinderella Boy by Kristina Meister ⭐⭐⭐ – A fun, cute read and if it weren't for the slow beginning this would've been a sold four-star read. If you want a genderfluid Cinderella, queer Prince Charming and queer kids fighting back then look no further
💛 Autoboyography by Christina Lauren ⭐⭐⭐⭐⭐ – I STILL HAVE NO WORDS FOR THIS?
💛 Tash Hearts Tolstoy by Kathryn Ormsbee ⭐⭐⭐⭐ – This was such a fun and cute read! Plus the main character is ace and while that is definitely discussed, it's not the main focus. It's just a part of who she is.
💛 Magnus Chase and the Ship of the Dead by Rick Riordan ⭐⭐⭐⭐⭐ – SUCH a satisfying conclusion to the trilogy! Absolutely loved it. A perfect Riordan read. Loved that we got more focus on Magnus' hallmates as they've been quite absent in the other two books, that it was Ramadan during their quest so Sam was fasting, the power of friendship!!, Magnus being a loveable bean, the slowburn between him and Alex, Alex being Alex… God I loved it
💛 Leah on the Offbeat by Becky Albertali ⭐⭐⭐⭐⭐ – There is a conversation in this that did make me a bit uncomfortable, especially since it wasn't addressed, but despite that I really loved and enjoyed it. The moment I started it I felt like coming home and I read it in one day. I will definitely address my main problem in my review, and it is possible that I'll change my rating to four stars, as I rated it five after reading the adorable ending. I need to gather my thoughts a bit more
💛 I Was Born For This by Alice Oseman ⭐⭐⭐⭐⭐ – I HAVE NO WORDS FOR THIS ONE EITHER I WAS JUST ABSOLUTELY BLOWN AWAY AND I'M SO MAD AT MYSELF FOR NOT GIVING INTO THE HYPE SOONER AND PICKING UP OSEMAN'S BOOKS
All in all a perfect month! My only three star read was still a gem that I love very much and look! at! all! the! queer! books! A perfect Pride reading month
Ahh this was such a weird week?? Like it started out pretty relaxed but then the end of it?? SO MANY PLANS. Thus why I'm writing most of this in advance because this weekend is a busy weekend. Last Sunday we went to a friend of my mom's for her birthday in the late afternoon. This friend is basically family to me and her son is like my brother. At some point in the evening we decided to take a walk and that ended in us going to all the playgrounds in the neighbourhood lmao. The next day we went to one of the playgrounds again, and discovered there were also trampolines!! We are in our twenties but we had the best time 10/10 recommend. The day after that he texted me that he had gone to the playground again, as he biked past it and noticed that it was deserted 😂 I can just imagine the headline: '24 year old has the time of his life at deserted playground'
what was going on inside my mind when he texted me
Tuesday was a 'relaxing' day at home in which I finally got around to cleaning my room and reorganising my shelves as I didn't have enough space for my newest books (this includes books I got for Christmas which I never got around to finding a place on my shelves for since I left for Manchester not long after) and uh I ended up taking quite a few books off my shelves for good? I'm not sure yet what I'll do with them, but of course I'll make sure they'll find a new home.
Wednesday I took the time to blog, but I don't remember much else? Thursday my mom dragged me to the beach. I'm not very fond of the beach but she loves it, so I went with her but dansgh sand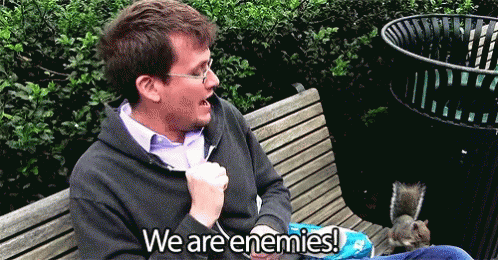 me @ sand
Don't get me wrong it was still a fun day but I prefer to not go again until like,, next year. Friday I spent at home as I had to take care of some blogging and school stuff and my weekend was pretty full. Though I did leave for a bit to go to a YA/comic books/manga sale at my favourite bookstore and found some gems! As usual I'm too lazy to take a picture but I found some Pokemon Special XY and Omega Ruby and Alpha Sapphirevolumes that I didn't have yet, volume 2 of Patsy Walker A.K.A. Hellcat, Ms. Marvel volume 4 and Labyrinth Lost (that same day I found out it had queer rep?? I DID NOT KNOW THAT?? WHY IS NO ONE TALKING ABOUT THAT)
Saturday I went to my best friend's dorm as it was her last weekend in Amsterdam (for now) because her internship is finished and we decided to celebrate that. Before our celebration we went to a protest march against the seperation of immigrant families in America. It was the first time for both of us that we went to a protest – somehow we both always missed them until afterwards? I always see them on social media or the news and I'm like ?? how did y'all find out about this. I was a bit anxious because you know, anxiety, but everything went fine and while I wished a lot more people had showed up, it was already great to see everyone who did.
In the evening we had dinner at an all you can eat tapas restaurant which was really good, except for the loud, rude, sexist men not far away from us. Thankfully they left us alone, but sgjh I felt uncomfortable.
Today I'll be meeting up with another friend and just enjoy the weather. It's ridiculous how warm and nice it's been lately. Usually the weather is really nice during exam time and then the moment that's over and I actually have the time to enjoy it, it's back to regular Dutch weather. But now?? Nope. Gotta love that climate change
CAMP NANO HAS STARTED AND I'M NOT PREPARED AT ALL HAHAHA.
I'm hoping to FINALLY finish my unnamed contemporary – it would be the third time I use this project for Camp NaNo and third time is the charm right? RIGHT? I really want to finish it (or at least work on it) but I also don't want to pressure myself?? But if I don't pressure myself I never write??? Like seriously for someone who claims to love writing I barely ever write dkngjsh
Oh but while on the beach I did get around to writing a few ideas/plot points for the sequel to the unnamed contemporary asdfdgk They've been going around in my head ok I had to write them down before I forgot I didn't mean to work on the sequel
🐝 The Writing Hufflepuff 🐝
Reviews
💛 All Of This Is True // Boring, Flat Characters and Possibly Redeeming A Character Who Commited Sexual Assault???
💛 Cinderella Boy // Genderfluid Cinderella and Queer Kids Fighting Back
Pride
💛 LGBTQIAP+ Comics You Should Read Part I
💛 LGBTQIAP+ Comics You Should Read Part II
💛 LGBTQIAP+ Books I Want To See Turned Into Movies Part I
💛 LGBTQIAP+ Books I Want To See Turned Into Movies Part II
💛 The Pride Tag // In Which I Shower Becky Albertali With Love
💛 I wrote a guest post for Bethany @ Bethany and Books about growing up bisexual in Amsterdam
Writing
💛 My Current Writing Ideas/Projects That Are All Gay Duh + Aesthetics!
Wrap ups
💛 The Weekly Hufflepuff #69 // HAPPY PRIDE Y'ALL
💛 The Weekly Hufflepuff #70 // I'M A FREE ELF also 21 now ahhhh
Other
💛 My Fourth Blogoversary??? + Aesthetics Giveaway!
I would've loved to blog more, especially about Pride, but considering I had exams until the 19th I think I still did pretty well?? Plus apart from my All of This is True review and my blogoversary post sort of all of my other posts can be seen as Pride related as well lol
📷 Aesthetically Dreaming 📷
📸 I (awkwardly) introduced myself and the blog
📸 I shared a photoshoot of some 'under the sea' photography
📸 I did the photography tag in which I shared my best photo, favourite instagrams and my love of cats
📸 I shared some of my favourite Instagrams (theme: Paris)
📸 I talked about the struggles of being a photographer
📸 I shared my photography essentials
📸 I shared 6 LGBTQIAP+ artists for Pride
📸 I looked at the pros and cons of a Canon camera and iPhone 6
📸 I talked about the South-African lesbian photographer Zanele Muholi
📸 More LGBTQIAP+ Artists To Share!
💛 Aimee @ Aimee, Always gives 5 reasons why the bookish community rocks
💛 Lu @ It's Lu Again talks about whether LGBTQIAP+ rep in YA is varied enough
💛 Anna @ Reading Peaches shares some LGBTQIAP+ books with the hate to love trope
💛 Mel @ A Word and a Whisper shares their favourite moments of Pride Month
💛 Hannah @ Mortal Reader talks about her experience at the Harry Potter Studio Tour
💛 Marie @ Drizzle and Hurricane Books shares 15 contemporaries to read during summer
💛 Shai @ Cade Under Books shares 5 graphic novels with f/f relationships
💛 Lia @ Lost in a Story talks about romance in media, aphobia and happy endings
💛 Jordyn @ Jordz the Bibliophile talks about people not taking YA seriously
💛 Julianna @ Paper Blots shares 12 Asian-inspired fantasies coming out soon(ish)
💛 May @ Forever and Every shares how she keeps track of her reading and I don't know how they do it?? SO ORGANISED WHAT
Seriously how is it July already. Does anyone else remember how everyone was complaining how slow January was?? AND NOW IT'S JULY? How was your June/Pride? Did you do anything special? What was your favourite read this month? Are you prepared for Camp NaNo? Let me know in the comments!