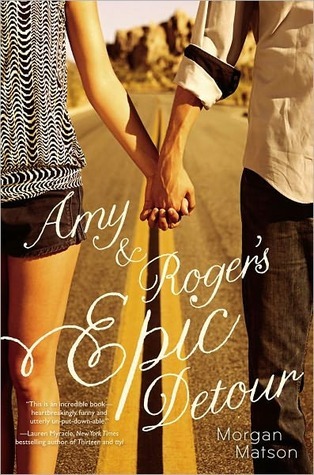 Author: Morgan Matson
Genre: Contemporary //  YA
Goodreads rating: 4.03
My rating: ⭐⭐⭐
Amy Curry is not looking forward to her summer. Her mother decided to move across the country and now it's Amy's responsibility to get their car from California to Connecticut. The only problem is, since her father died in a car accident, she isn't ready to get behind the wheel. Enter Roger. An old family friend, he also has to make the cross-country trip – and has plenty of baggage of his own. The road home may be unfamiliar – especially with their friendship venturing into uncharted territory – but together, Amy and Roger will figure out how to map their way.

When I saw that Amy and Roger's Epic Detour was up for free on Riveted (this was last month) I immediately started to read it, as I loved The Unexpected Everything and Since You've Been Gone. Unfortunately this one fell a bit short for me.
Amy and Roger's Epic Detour was just a little bit too long for me, while not much happened. Or at least it felt that way to me. Of course everything they go through is important for Amy to overcome her grief and for her and Roger's relationship to develop, but at times I wondered if certain events were really necessary to the plot. But most of all I really missed the things I fell in love with while reading Matson's other novels: family and friendship. It does make sense plotwise why Amy's family isn't in this much, except for flashbacks, but I still wish we could've seen more of them. I felt incredibly detached to Amy's family and while I'm a very emotional person, her having lost her father didn't really make me feel anything. The book also ended before Amy's mom could play a bigger part, which was disappointing (even though I did find the book too long) and left me with a lot of questions.
And then there's the lack of friendship. Okay, so Amy and Roger start out as friends and that was great! I loved them! But I still really missed the friendship element that I loved so much in The Unexpected Everything and Since You've Been Gone. Amy does have a best friend, but she has moved away before the book begins and barely plays a part. Plus there's some conflict there, as Amy has ignored her for quite some time now due to her grief. We never see this resolved which just felt weird to me. During the trip Amy does make some friends, but we never see them again.
Amy and Roger's Epic Detour was both too long and too short at the same time. Too short because there's just too much missing, too much left hardly touched upon or resolved, whereas the actual book was just a bit too long for me. I'm glad that this wasn't my first Matson book, as I probably would've been hesitant to pick up her other books and missed out badly.
That said, it was a fun read – I mean road trip! I'm a sucker for road trips. Seeing Amy overcome her grief and trauma was also great. There's a lot of potential for this to have been a great read, but it just fell a bit short.
Have you read Amy and Roger's Epic Detour? What's your favourite Matson book? How do you feel about road trips in books? Let me know in the comments!