HAPPY PRIDE
Am I going to start all my Pride posts like this? Probably. ANYWAY. You may know I love comics. One of the reasons I love comics so much is because they're so diverse?? Including LGBTQIAP+ rep?? Obviously it hasn't always been that way so I can't be all mad and go 'why did no one tell me before I got into them in 2016!!'* I've been meaning to scream about my favourite comics, so what better time than Pride?
* Obviously not counting the Donald Duck and other Disney comics I used to read as a child. Oh and the Winx Club comics! Anyone remember those? I did read manga before that but it's really hard to find good LGBTQIAP+ manga that are not full of gross stereotypes and fetishing adgjhs
Shoot Around
My absolute favourite!! Okay I love all the comics on this list dearly, but oh my goodness this one. It has a special place in my heart because it was the first LGBTQIAP+ comic I read but it's also just SO GOOD. It's about an all girls high school basketball team and their coach who suddenly find themselves in the middle of the zombie apocalypse. While it gets tense and there's quite some angst – because you know,, zombies – the focus lies on these characters just trying to keep on living their life, not just surviving. Out of the eight main characters only one of them is white and none of them are both cis AND straight – the only (seemingly) straight character is trans. The supporting cast is also incredibly diverse and look!! At that body diversity!! It's heartwarming, heartbreaking, absolutely hilarious and very queer and unfortunately finished, though that does mean you can binge and don't have to fear any horrible cliffhangers! If you need more convincing I once wrote a post about it but if I've got your attention, please read it either on the Webtoon site or app – it's completely free for you but supports the artist.
Rock and Riot
IT'S GREASE BUT QUEER LIKE COME ON YOU NEED THIS. Shoot Around is very diverse when it comes to sexualities and gender identities, but Rock and Riot?? I was blown away. >big>So many different identities but all these characters are so much more than that. Also!! As you can see there's also diversity when it comes to race and bodies! Rock and Riot takes place in the fifties and follows two (later three) gangs: a girl gang, a boy gang and a non-binary gang. The first two gangs have a rivalry together, while the third one is just off having a Good Time™. These kids are just so silly and relatable and it's just adgjs They stand up for what is right and fight for each other – I can't say too much without giving it all away but damn the scenes I'm talking about were empowering. Also THE BEST, MOST ICONIC™ coming out scene of all time. You can read the comic on Tumblr  but if you need more convincing you can read my old post about it
Lumberjanes
You might have heard of Lumberjanes, as it's pretty popular around the book blogging community (for non-superhero related comics anyway) but if not have no fear these kids are queer! Couldn't help myself. Anyway not all of them are (at least not confirmed) But Mal and Molly are in love and it's adorable and just everything, Jo is a trans girl and later on we get a non-binary character. It takes place at a summer camp in magical woods with monsters, not all of them friendly, but that's okay because these girls are always up for an adventure. It's silly, it's fun, it's cute. READ IT. And if I haven't convinced you yet, here's my old post on it
Goldie Vance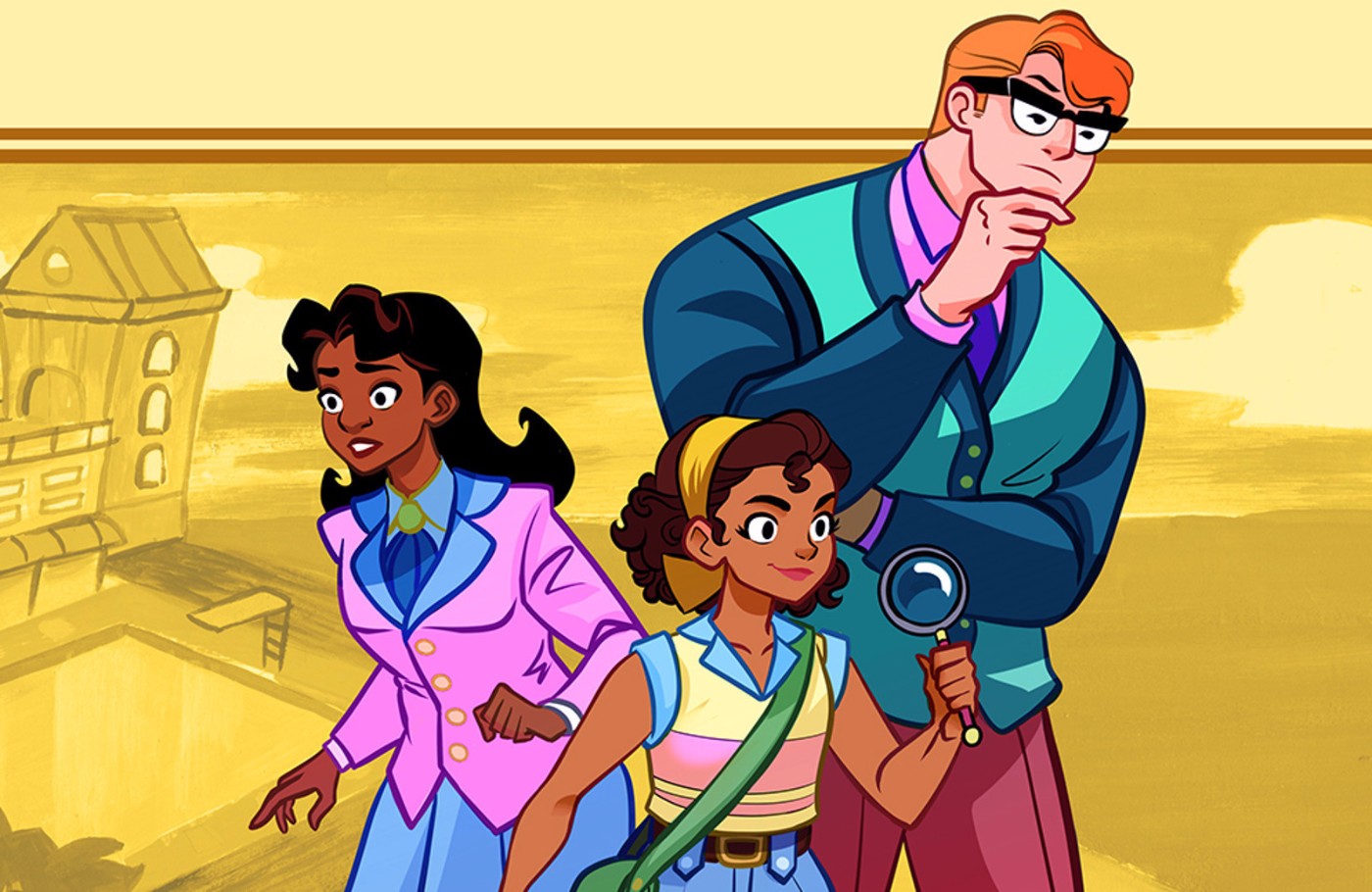 Did someone say Nancy Drew but she's black and queer – that someone is me. I said that. HELLO MEET GOLDIE VANCE SHE'S A TEEN DETECTIVE, HELLA SMART, LOVES CARS AND RACING IN THEM AND SHE HAS A HELLA COOL GIRLFRIEND*. Goldie Vance is cute, fun and colourful. I mean look at that art?? Goldie isn't the only girl interested in cars – there are multiple girls who are, who work on them and who race as well. There are a bunch of interesting characters and it's just so worth diving into?? Though if I didn't have you at 'Nancy Drew but she's black and queer' I don't know how to convince you further. Though I did write a post on this wonderful comic once upon a time that you could read if I haven't convinced you yet 
* I'm not jealous you are
DC Bombshells
Can you believe I haven't written a post on this comic yet even though I love it very very much. I can because I'm lazy and forgetful  ¯\_(ツ)_/¯ Anyway, DC Bombshells takes place during World War II in an alternative universe where most male superheroes don't exist (or aren't superheroes like Bruce Wayne) and puts DC's women – superheroes and villains alike – in the spotlight.It's very political, but also just a lot of fun. One of my favourite things about this comic is their take on the Bat Fam, as it includes a bunch of teens/young adults who were inspired by Batwoman, took up her name and decided to keep Gotham save while Batwoman is in Europe fighting the nazi's. They're a very diverse group and I just love those kids. The comic has multiple queer characters (and a bunch of POC as well!) and f/f relationships, though it's been so long since I read this and I'm super behind, so I don't want to go into too much detail in case I remember something wrong. I started to reread it last year so that I could write a proper post but guess I should start rereading again dgksjshg
And that's part I! I still have some others to share so if nothing here interests you, part II might have the perfect comic rec for you!
Have you read any of these? What's your favourite LGBTQIAP+ comic? Let me know in the comments!