Hey look I'm alive barely I didn't mean to disappear like that, but I've been really busy with doing both an internship and working at Ripley's Believe it Or Not. I barely have any free time because of this, and during my free time I mostly,,, watch netflix and play video games I guess? I've been too exhausted to blog, that's for sure. One day I'll write a more detailed post about how I've been and what I've been up to, but I still don't have the energy for that. The only reason I'm here now is because these books should've been reviewed at the start of the month woops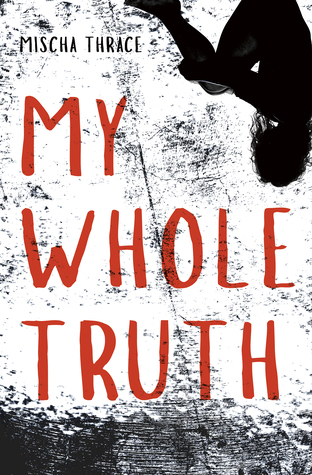 Author: Mischa Thrace
Genre: Contemporary // LGBTQIAP+ // YA
Rep: Fat sapphic MC, Japanese female love interest with two dads, f/f romance, black female lawyer
Goodreads rating: 4.03
My rating: ⭐⭐⭐⭐⭐
Seventeen-year-old Seelie Stanton never wanted to kill someone. She never wanted to be invisible in her own family, never wanted to crush on her best friend Alyssa, and she definitely never wanted to know how effectively a mallet could destroy someone's head.
But the universe doesn't care what she wants. Shane Mayfield doesn't care what Seelie wants either. When the former high school basketball star attacks her, she has no choice but to defend herself. She saved her own life, but she can't bring herself to talk about what happened that night. Not all of it. Not even when she's arrested for murder.
Disclaimer: I was given an ARC of this book by Netgalley and the publisher (thank you!) in return for an honest review
Trigger warning: rape mentions
Oh where do I even start? My Whole Truth is heartbreaking, captivating and so so important. It perfectly captures sexism, rape culture and the corruption of the justice system. But despite the heavy topics, it wasn't an entirely heavy read, mainly because Seelie has an amazing friend group. They aren't perfect, neither is Seelie, but they'd go to hell and back for each other. They're always there for her, no matter what. Even when some disagreements arise, they would never give up on each other.
My Whole Truth is definitely not for everyone, even though I didn't find it very graphic, it's still heavy. Knowing our society, it's hard to stay positive while reading a story like Seelie's. Just like her, I felt myself giving up hope so many times. But then there was Seelie's lawyer, Cara, who's smart, kickass and never wavers. She keeps believing in Sadie and never forces her to do anything she doesn't want to do. She doesn't know Seelie at the start of the book, but she's ready to fight, just like her friends. In the end, she's more like a friend or family than just a lawyer. Despite not having a great relationship with her mother, Seelie has found her family in her friends and Cara, which was beautiful to see.
Also the romance is adorable and I love it so much.
I honestly can't say much more about My Whole Truth, except read it if you can handle it. I couldn't possible do the book justice with a review, but I hope this mini review was enough to convince you.
Author: Cynthia Leitich Smith
Genre: Contemporary // YA
Rep: Own voices Native American (MC and family), Libanese male love interest, two minor sapphic characters who are in a relationship with each other (lesbian and bisexual)
Goodreads rating: 3.74
My rating: ⭐⭐
When Louise Wolfe's first real boyfriend mocks and disrespects Native people in front of her, she breaks things off and dumps him over e-mail. It's her senior year, anyway, and she'd rather spend her time with her family and friends and working on the school newspaper. The editors pair her up with Joey Kairouz, the ambitious new photojournalist, and in no time the paper's staff find themselves with a major story to cover: the school musical director's inclusive approach to casting The Wizard of Oz has been provoking backlash in their mostly white, middle-class Kansas town. From the newly formed Parents Against Revisionist Theater to anonymous threats, long-held prejudices are being laid bare and hostilities are spreading against teachers, parents, and students — especially the cast members at the center of the controversy, including Lou's little brother, who's playing the Tin Man. As tensions mount at school, so does a romance between Lou and Joey — but as she's learned, "dating while Native" can be difficult. In trying to protect her own heart, will Lou break Joey's?
Disclaimer: I was given an ARC of this book by Netgalley and the publisher (thank you!) in return for an honest review
This one had so much potential. I definitely do encourage everyone to try this one for yourself, as my biggest issue was the writing, which is something that is very subjective. The writing was very passive and just really missed emotion and tension. Some terrible stuff happens to the characters but I didn't really feel anything while reading the book. Because of the writing it was really hard to connect to the characters and the story.
I also felt like this story still needed a lot of editing. Like Louise and Joey are making their way to the lockers and we get a description of their entire route which was very unnecessary. Or random notes like in this scene:
"Daniel can't cover his own meets." [about Daniel becoming the school paper's sports reporter]
Alexis, the news reporter, had just returned from the restroom. "I'll take it. I have an older brother who wrestled. The coach loved him."
(The first meet isn't until December anyway.)
I mean??? It completely took me out of the story. It felt so unnatural and it's not relevant at all?
Chapters often ended in a way that didn't really make me want to keep reading, nor did they start that way. I mean this is literally how one of the chapters start: "A freshly microwaved pillow radiated heat into my neck and shoulders as my feet soaked in a copper basin of warm, seasalted water and Legally blonde played on the overhead screens.' Or another great start: 'Joey ran with a story tip from Alexis on injuries at the skate park'.
The romance was incredibly forced. We're literally told that Louise likes Joey, but?? The characters talk as if it's so obvious but it really wasn't. There wasn't really any build up nor chemistry. Also I uhhh kept forgetting they were dating every time I picked the book up. And I read each day until I had finished it, so it wasn't like that much time had passed.
The book does cover a lot about what it means to be Native American and racism. The plot itself is good, just the execution not so much. Again, I definitely encourage you to try this one for yourself.
How are all of you doing?? Have you read these books or are you planning to? Let me know in the comments!