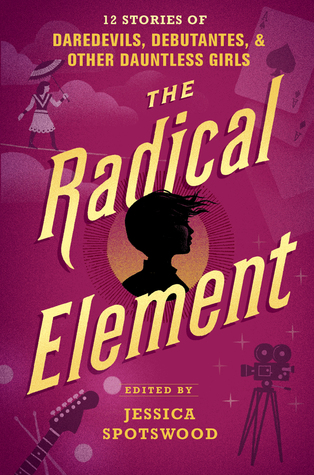 Author: Twelve different authors
Genre: Historical //  YA
Series: A Tyranny of Petticoats #2
Goodreads rating: 3.77
My rating: ⭐⭐⭐
In an anthology of revolution and resistance, a sisterhood of YA writers shines a light on a century and a half of heroines on the margins and in the intersections.
To respect yourself, to love yourself—should not have to be a radical decision. And yet it remains as challenging for an American girl to make today as it was in 1927 on the steps of the Supreme Court. It's a decision that must be faced whether you're balancing on the tightrope of neurodivergence, finding your way as a second-generation immigrant, or facing down American racism even while loving America. And it's the only decision when you've weighed society's expectations and found them wanting. In The Radical Element, twelve of the most talented writers working in young adult literature today tell the stories of the girls of all colors and creeds standing up for themselves and their beliefs—whether that means secretly learning Hebrew in early Savannah, using the family magic to pass as white in 1920s Hollywood, or singing in a feminist punk band in 1980s Boston. And they're asking you to join them.
Disclaimer: I was given an ARC of this book by Netgalley and the publisher (thank you!) in return for an honest review
I HATE rating and reviewing anthologies – some of these stories were amazing and I would've loved to see them as an actual book, others not so much. So while some of these are solid four or even five star reads, I ended up rating it three stars. I'm happy that there's diversity not just among the stories and their protagonists, but also among the writers themselves, which means we also have some own-voices stories. All of the women featured in this book are incredibly empowering and inspiring. Even if the short story they appeared in didn't really capture me, they certainly did. I am disappointed that there were no f/f romances though, even though one of the protagonists liked girls.
💛 Daughter of the Book by Dahlia Adler ⭐⭐⭐ // This one tells the story of Rebecca Gratz, a woman who really existed and was an advocate for Jewish women and economic equality. Daughter of the Book shows her as a young girl with a thirst for knowledge of her religion, culture and history. I really liked how determined Rebecca was and how it focuses on how important Jewish women were. I do feel like it was more of a set up though, but it did make me really interested in finding out more about her!
"What do I say when they want to know how you could leave them behind?"
"Tell them I'm Jewish first."
💛 You're a Stranger Here by Mackenzi Lee ⭐⭐⭐ // My expectations were really high for this one, as I absolutely loved The Gentleman's Guide to Vice and Virtue. This one fell a bit short for me, as I felt like not much really happened. I still ended up giving it three stars because I love Lee's writing style and I really liked the message of it:
"Finding things that give you hope, and make you want to do good things for others. And if Joseph's words do that" – she pats the Book of Commandments manuscript – "then that seems fine to me. Seems like a thing that people could need."
💛 The Magician by Erin Bowman ⭐⭐⭐⭐ // I didn't expect to love this one as much as I did! Ray has a reputation as an unbeatable poker player and calls herself a 'magician' rather than a cheat. Pretending to be a boy so she could earn more money, she agrees on going on an expedition, which of course could mean having her secret exposed. Besides Ray being a badass, her relationship with Mrs. Lowry, the woman who took her in and raised her, was my favourite aspect of this story. Despite this relationship, she is still desperate to find her biological family and find out more about who she is. While I wasn't blown away by Bowman's writing in Vengeance Road, I absolutely loved it in The Magician.
She was tired of pretending, and here along the river, she was a mystery even to herself. She was a boy and she was a girl. She was motherless and she was someone's child. She was a soul wanting to belong and a soul desperate to escape.
💛 Lady Firebrand by Megan Shepherd ⭐⭐⭐⭐⭐ // Two girls, one of which black, the other in a wheelchair, being spies against the South during the Civil War, blowing things up and fighting against slavery as a masked hero? Yes please. I would love to read more about these badass girls and their beautiful relationship.
Pauline and she, they were more than coconspirators. They were more than Lord Firebrand. They'd be there for each other in hard times and in good times, no matter the danger, always trusting in each other's strong heart.
💛 Step Right Up by Jessica Spotswood ⭐⭐⭐ // Ruby wants nothing more than to escape her abusive uncle and become a part of the circus and their family. I would've loved to see more of her relationship with the people at the circus over the years, as that would've made the story a lot more heartwarming. Although her uncle treats her horribly and her mother turns a blind eye, Ruby does have a good relationship with her sister Pearl, which of course I loved because sisters!! While they loved each other, Pearl understood Ruby's dream and supported her in any way she could.
"You looked after me the whole time we were growing up. It's time for me to look after myself now."
💛 Glamour by Anna-Marie McLemore ⭐⭐⭐⭐⭐ // This one too I need as a full book it was so beautifully written and magical and just dsjgh It made me super excited to read Wild Beauty wich I finally can now that I'm back home. Glamour follows Graciela who uses 'glamour' to make herself look white and works in Hollywood as Grace, and Sawyer, a disabled transgender boy. According to McLemore this story is her 'wish to give Graciela, a daughter of Mexican-American farmers, and Sawyer, a transgender boy living with a disability, the space that history would have tried to deny them.' And she definitely did. I just want more haha. The way it was written felt very real, and despite being a short story Graciela and Sawyer were very well-developed. Just,,, give me a full book please
She had told no one why she wanted to become Grace Moran: because the world left so little room for Graciela Morena
💛 Better For All The World by Marieke Nijkamp ⭐⭐⭐⭐⭐ // Oh my goodness this one was so good. I need to read more by Marieke Nijkamp, something I've wanted to do for quite some time now, but especially after reading this. Short stories often feel underdeveloped to me, but this one was truly perfect as a short story. It's an own voices about an autistic girl, following the trial of Carrie Buck (who really existed), another autistic girl who's fighting in court for her bodily autonomy as the state wants to sterilize her. It's an incredibly powerful and important story.
"Carrie Buck is a girl like me. Despite everyone telling her that she didn't matter, she came here to fight for her choices. She has the inalienable right to do so. But instead of recognising that, we assign vallue to her, to each other, to ourselves. We tell her she isn't competend enough. She isn't fit enough. She isn't equal enough. Do you know what would be better for all the world? If instead of fighting to limit her rights – our constitutional rights, our fundamentally human rights – we fought to embrace them and strengthen them. If we limit equality, we can never be truly equal."
💛 When the Moonlight Isn't Enough by Dhonielle Clayton ⭐⭐ // This one was just a bit eh for me. The main character and her parents drink moonlight in order to stay immortal, but this was never really touched upon. It just left me with a lot of questions and I was bored. Nothing really stayed with me and I didn't hightlight anything. It doesn't help that it's been a while since I read this either.
💛 The Belle of the Ball by Sarvenaz Tash ⭐⭐⭐ // This one was fun! The protagonist wants to be a comedy writer, which of course wasn't easy for a woman back then. It was a fun and interesting read, but it just didn't blow me away.
💛 Land of the Sweet, Home of the Brave by Stacey Lee ⭐⭐⭐ // I would've loved to have rated this higher, but it fell a bit short to me, as if not much happened. Lana wants to become the face of Miss Sugar Maiden, because 'maybe it was time for a nonwhite on the box. Sugar Maiden's product comes direct from Hawaii, born of the sweat of thousands of islanders – Japanese, Chinese, Portuguese, Korean, and Filipinos – yet the girls on the boxes have always been as snowy as its contents.' The story also focuses on the discrimination her parents as half-Japanese and Chinese faced and another important aspect is Lana's love for her family, which keeps her going. It just left me with a 'that's it?' feeling, which is why I ended up rating it three stars, but I really loved Lana and her story.
💛 The Birth of Susi Go-Go by Meg Medina ⭐⭐⭐ // As mentioned before, it's been a while since I read this and well… I don't really remember this one? It wasn't badly written, but it wasn't very memorable either. Susana's grandparents are finally coming from Cuba to live with her and her parents, which she is very nervous about because she doesn't remember them. I wish the story would've focused more on that and that we had seen her grandparents more.
💛 Take me With U by Sara Farizan ⭐⭐⭐.5 // This one was a lot of fun! Soheila has fled from the war in Iran to live with her uncle, aunt and little cousin, who is her only friend. Until she meets Mai that is. Mai introduces her to pop culture, especially music and eventually Soheila becomes a part of Mai's band. I really liked how Mai became a big sister to Soheila, Soheila discovering American pop culture and the band aspect. Plus of course how Soheila (and Mai!) hung out with her little cousin. He was adorable.
During that set, I was free to be whoever I wanted to be. Not Apollonia, not Amir's babysitter, not a self-conscious girl. I was bitchin' and so was my band.
All in all this is a fun, inspiring and empowering anthology that I definitely recommend.
Have you read The Radical Element? Or another cool anthology like this? Let me know in the comments!