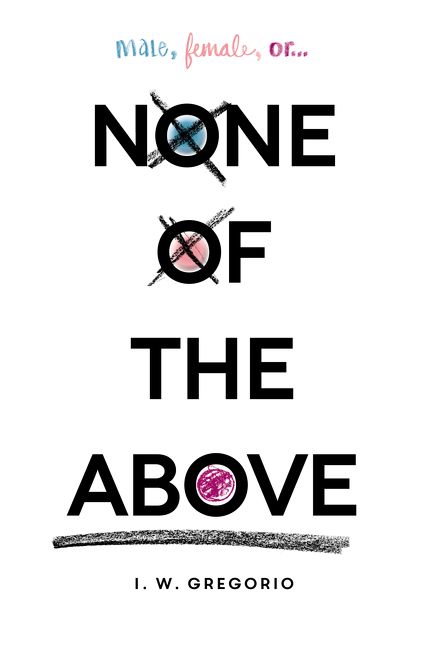 Author: I.W. Gregorio
Genre: Contemporary | LGBT+ | YA
Goodreads rating: 3.89
My rating:  ⭐⭐⭐
When Kristin Lattimer is voted homecoming queen, it seems like another piece of her ideal life has fallen into place. She's a champion hurdler with a full scholarship to college and she's madly in love with her boyfriend. In fact, she's decided that she's ready to take things to the next level with him.
But Kristin's first time isn't the perfect moment she's planned—something is very wrong. A visit to the doctor reveals the truth: Kristin is intersex, which means that though she outwardly looks like a girl, she has male chromosomes, not to mention boy "parts."
Dealing with her body is difficult enough, but when her diagnosis is leaked to the whole school, Kristin's entire identity is thrown into question. As her world unravels, can she come to terms with her new self?
A really important read, but in some ways I found it a bit lacking. It's clear that the author has done a lot of research and knows what she's talking about. Kristen is well developed and her coming to terms with being intersex was well explored, but when I only had a few pages left I was wondering – is this it? It might be that I had different expectations, but for me the story was far from over. Of course Kristen's story is never finished, and I'm okay with the fact that her story doesn't have a definite end – but I just wish that some things had been explored a bit further, like the support group for intersex women and I wished Kristen had come to the realisation that her ex-boyfriend is a jerk and that he's not the victim. At some point she thinks to herself that she doesn't deserve him, that he deserves love – no girl, he doesn't deserve you.
I also found it a shame that the supporting characters and their relationships with Kristen were quite underdeveloped. While reading I had no trouble remembering them, but I know that after a while I will have forgotten them.
While I'm glad the romance took a backseat, it may have taken a bit too much of a backseat*, as I felt like the love interest didn't show up enough times and his relationship with Kristen wasn't that well developed. When I got towards the end I was wondering how they were still going to end up together** as there just hadn't been enough scenes between them for me. That said, the love interest is a sweetheart and I do approve.
* I can't believe I'm complaining about this since I usually complain when a romance takes over the story lmao
** Them ending up together was obvious
All in all, I flew through this book and I'd definitely recommend it.
Have you read None of the Above? What did you think? Any other YA books with intersex characters that I should check out? Let me know in the comments!