I'm back with more comic recommendations! With this being the last week of Pride it doesn't mean that I won't ever do a part III of course, I'll definitely share more at some point in the future! Anyway, let's dive in
Giant Days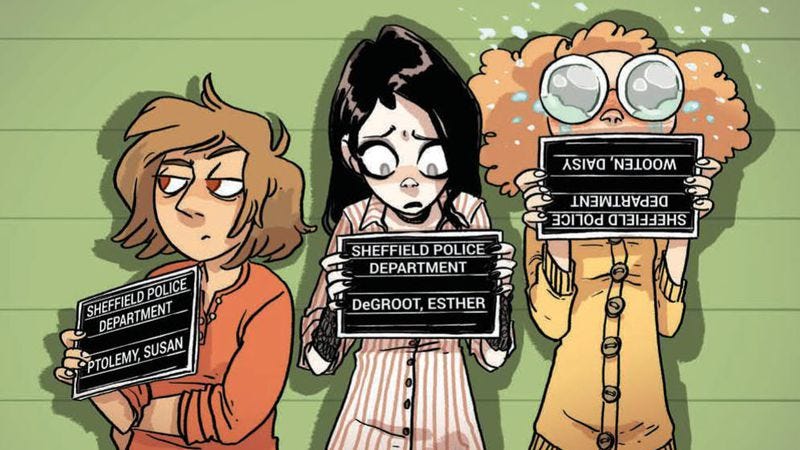 I discovered Giant Days when I caught up on all the Lumberjanes issues that were out back then and was looking for a replacement. According to some forum (I think?) Giant Days was similar to Lumberjanes and as it sounded interesting I went to check it out. And lo and behold, I was hooked. Giant Days is very much its own story of course, but it is a little bit like a more mature Lumberjanes.Giant Days is about three best friends trying to get through college together and while it's pretty realistic, it also has some more fantasy-like elements, thus why I see the similarities with Lumberjanes. While dealing with some serious topics, it's fun, silly and absolutely hilarious. I don't laugh out loud quickly when reading comics, but Giant Days? I've laughed out loud multiple times. Daisy is biracial (her grandmother is black) and throughout the comics she realises she likes girls (I don't remember her labeling herself?) and eventually she gets into a relationship with a girl. It's… not the best relationship, but the comic never pretends it is. It's just a very realistic take on a bad relationship. If you like Lumberjanes, I definitely recommend Giant Days.
The Backstagers
*chants* Queer theater boys queer theater boys queer theater boys! Another one that really reminds me of Lumberjanes, although this is about the backstage crew of a school theater club. Like the Lumberjanes' camp, backstage isn't a regular one as it's a magical place with lots of secrets to uncover. I love how The Backstagers not only showcases great friendships between boys, but also breaks down stereotypes and toxic masculinity. Plus a cute slow burn between two of the boys and Beckett (on the left) is trans. There are only two volumes so it's a very short read (though a Valentine's Day special came out so maybe there's more coming?) but so so worth it. Again, if you love Lumberjanes, definitely recommend this one.
Patsy Walker
I've only read the first volume of this but I'm already in love?? It's just very queer without making a big deal about it and I love it. Also the story itself is just fun and cute? Patsy Walker a.k.a. Hellcat starts a temp agency for people with superpowers which in itself is already a unique and fun concept, but the entire vibe of the comic is just?? So fun?? The art work is cute and colourful and while there are villains to fight there isn't really any angst. Also the humour really reminds me of Squirrel Girl, which is a plus. There are multiple queer characters (my fave being Ian Soo, who's bisexual) who just get to exist, be happy, have fun adventures and friends* and ahhh I'm so sad this got cancelled even though I haven't finished it yet.
* I don't know about any romantic relationships as I'm not that far yet but I think they do also get into healthy relationships?
Zodiac Starforce
I've actually talked about this one before!  Zodiac Starforce is a magical girls comic, in which the girls powers are based on the zodiac signs. Apart from multiple POC the main cast also consists of two queer girls who fall in love with each other. Apart from that once again a great friendship is at the center of this one. These girls are not just fighting to save the world, but also to protect each other. It's a fun read, though it also explores the darker side of being a magical girl.
Hi-Fi Fight Club
Okay so there aren't that many issues out for this one yet so I can't really say that much about plot and characters, but the main character has a crush on a really pretty girl and it's super relatable because SAME. She's such a mess around her ajbshg The main character works at a record store, but it turns out that her co-workers are sort of superheroes, minus the super powers and have started a fight club. Oh and it takes place in the 90s! So far it's really fun and cute and I can't wait to see where this goes
That's it for now, but as I said Pride being almost over doesn't mean the end for this series.
Have you read any of these? Any LGBTQIAP+ comics you'd recommend? Let me know in the comments!