Lately I've been able to review books quite quickly after I finish them, but there are some books that I just… forgot about. Thus why I decided to put them together in a post with mini reviews, because I don't remember enough for full reviews. This shall be fun*
* Haha not help me please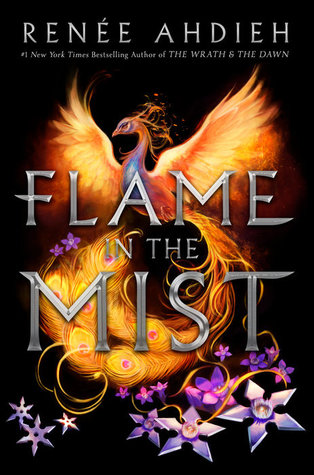 Author: Renee Ahdieh
Genre: Fantasy | Retelling | YA
Series: Flame in the Mist #1
Goodreads rating: 3.97
My rating:  ★★★
The only daughter of a prominent samurai, Mariko has always known she'd been raised for one purpose and one purpose only: to marry. Never mind her cunning, which rivals that of her twin brother, Kenshin, or her skills as an accomplished alchemist. Since Mariko was not born a boy, her fate was sealed the moment she drew her first breath.
So, at just seventeen years old, Mariko is sent to the imperial palace to meet her betrothed, a man she did not choose, for the very first time. But the journey is cut short when Mariko's convoy is viciously attacked by the Black Clan, a dangerous group of bandits who've been hired to kill Mariko before she reaches the palace.
The lone survivor, Mariko narrowly escapes to the woods, where she plots her revenge. Dressed as a peasant boy, she sets out to infiltrate the Black Clan and hunt down those responsible for the target on her back. Once she's within their ranks, though, Mariko finds for the first time she's appreciated for her intellect and abilities. She even finds herself falling in love—a love that will force her to question everything she's ever known about her family, her purpose, and her deepest desires.
I have a lot of mixed feelings about this one. I didn't hate it, but I didn't really enjoy it either. The writing didn't really pull me in and made me feel quite detached from the characters. I didn't care about any of them which made the action scenes feel lacking. I was also really bored and had to force myself to finish it, because despite being bored I did want to know how it would end.
The worldbuilding didn't feel that developed to me. I didn't really have a sense of the world that it was set in and I'm really confused about the magic system. I wished that had been explored and explained more.
And don't get me started on the romance. I found it incredibly forced and it came out of nowhere. I also loathed the love interest so that didn't help.
I absolutely love the concept – we need more Mulan retellings guys – but the execution not so much.
Author: Kim Richardson
Genre: Fantasy | YA
Series: Soul Guardians #1
Goodreads rating: 3.7
My rating: ★
Sixteen-year-old Kara Nightingale is unpopular, awkward and positively ordinary—that is until one day she is struck by a bus and dies…Within moments her life changes from ordinary to extraordinary as she wakes up in a mysterious world with a new career—as a rookie for the Guardian Angel Legion. Kara is pulled into the supernatural where monkeys drive the elevators, oracles scurry above giant crystal balls and where demons feed on the souls of mortals.
When an Elemental child is kidnapped, Kara is sent on a danger-filled quest and plunges into a situation more dangerous and deadly than anything she could ever imagine.
Marked was not what I expected at all. There was a lot more focus on unnecessary relationship drama than on what it means to be a Guardian Angel, their world, the Elemental child and Kara coming to terms with being dead.
I have no idea why Kara was chosen to become a Guardian Angel, as we don't know anything about her and the moment we're introduced to her is the moment right before she dies. Then she even gets a 'life-quest', which is a special assignment and if you succeed you get your life back. But Kara is still a rookie, and not a succesful one. So why does she get it? Aren't there Guardian Angels who would deserve it more? I found this really ridiculous, especially when it's explained that 'each guardian was chosen for their specific skills' okay but what skills does Kara have.
SPOILER: It's a really dangerous mission and out of all the Guardians chosen to try and succeed, all of them very skilled and with a lot of experience, she's the only survivor lmao like sure that's realistic
The characters were incredibly flat and the love interest downright annoying. I barely ever use the word 'douchebag' but this is the right word to describe him. His ego is not charming and funny, just rude. The romance came out of nowhere and we're supposed to believe 'they're in love'
The Elemental child the summary mentions just felt like an afterthought and the entire book just read like a first draft. I have another book by this author on my Kindle app and I'm willing to give her another chance, but considering how much I hated the main characters of Guardian Angels I'm done with that series.
So I guess the common factor between these books is forced romance? I hadn't even realised when I decided to review these together haha. I'm quite pleased with myself at how much I remembered* – I thought this would've been a disaster and I might end up deleting this post
* That's half a lie – I didn't remember anything about Marked but thankfully I had made notes in the ebook
Have you read these? What did you think? How do you feel about forced romance? Do you know any good Mulan retellings? Let me know in the comments!