Previous reviews: 1 | 2 |3 | 4 | 5 | 6 | 7 | 8 | 9 | 10 | 11 | 12
Isn't the finale a great moment to make a new banner for these reviews lol. This was the only warrior design in MomentCam that I could find that I liked, but hey Shadowhunters are warriors and I'm sure that at some point they wore armour like this
Warning: This is a pretty detailed review, sometimes comparing it to the books so if you haven't read those and don't want to be spoiled, beware. Also I don't start talking about the episode in detail until you see letters in this size, so if you want to skip my rambling about the season in general and my hopes for season 2, skip ahead!
Anyway, can you guys believe this was the last one already? I can't! It feels like only yesterday that they announced the show, that we waited in anticipation for the cast to be announced on Twitter, when we got the first promos and trailers… And now season one is over already! And boy did I enjoy it. Does it have its flaws? Yes. Definitely. Especially in the beginning. But it got better and better and honestly? I started to prefer it to the books. Don't me wrong, I still love them (I think. I'm not sure how I'll feel about them if I'd reread them). It's just that the show is about all the characters, and the finale showed that once again. It wasn't just about Clace and their 'oh no we're related but we're still attracted to each other!' I really hope the show handles the incest plot line well. They've done so many things right, so I have my hopes up.
There are multiple plot lines, that all came together nicely in the finale, opening up new possible plot lines for season two, for both characters and relationships. I do hope that Alec finding out about Magnus' past relationship with Camille won't lead to the drama in the books. Alec was really unreasonable in the books about the fact that Magnus had been in a relationship before, and while at the time I didn't realise it because I was ignorant and naive, he was pretty biphobic. The show handles Malec so well though, so I hope they'll just focus on the fact that Alec realised that Magnus is immortal and what that actually means (and that he won't try to make him mortal behind his back like he did in the books)
I think it will be really interesting to see Simon's new storyline, now that he's no longer welcome at Hotel Dumort. And surely he will become a Daylighter in season 2? There's also the Lightwood family drama of course, Jace has sided with Valentine and the alliance between the Shadowhunters and the vampires has been broken, which could also have an effect on the Shadowhunters' relationship with the other Downworlders. And of course the obvious problem of Valentine having the cup. Plenty of stuff for season 2!
Anyway, I also feel like the characters are much more dimensional than in the books. Some are better written and portrayed then others, but except for Jace I think I prefer most of the tv show characters to the book ones. The relationship between Clary and Simon also feels healthier, with Simon not depending on Clary all the time and not feeling entitled to her (that outburst in the books when he tells her he's in love with her is kinda gross. I still love Simon though!). Malec has actual screen time and so far is healthy too. Izzy is a great role model, which I've touched upon multiple times. I'm not saying that book! Izzy isn't at all, but the way she treated Clary in CoB for example was disgusting and now we have a healthy female friendship between two strong, dependent, smart ladies. Does Clary get on my nerves? Yes, but to be fair she did in the books too. So far I like her better than book! Clary though. And you know, the show added my bae Lydia so
Let's talk about the episode in detail though shall we?
I think it was a solid finale, that wrapped up just enough to feel closure, but opened up enough new plot lines for season 2. I like that Jocelyn woke up in the end. It may have worked to keep her unconscious for a really long time in the books (actually it annoyed me), but in the tv show it would definitely not work. It would feel dragged out. Plus no annoying absent parent trope!
All the main characters played a big part (Izzy less so, but she still shined and let's be honest Clary and Simon would be dead – uh Clary would be dead and Simon would be dust – without her), and so did the supporting characters like Raphael. I would've loved to see a scene with Lydia, but I guess there was no time for that.
It's been a while since I've really ranted, but I'm really annoyed with the werewolves in the show. Shouldn't they have heightened senses? I found it ridiculous that when Hodge hid from that wolf, it just ran the other way. He should have been able to smell him. And when Jace left and took Hodge with him, shouldn't Luke have been able to hear him? I feel like heightened senses are a big part of werewolf mythology and I just find it weird that they don't have them (and I don't remember if they did in other episodes and that they just conveniently forgot in these scenes). Maybe Luke's senses are normal when he's in his human body, but the other werewolf was in his wolf form, so it still makes no sense.
Since we're ranting anyway, let's talk about Jace cutting of Hodge's hand. Please tell me I'm not the only one who laughed? It looked so fake and the way the hand lay there was just hilarious to me. Or maybe I just have a weird sense of humour.
Malec was once again done well. Alec's insecurities and in turn Magnus' were in character and it broke my heart when Magnus asked if Alec regretted it. Magnus suggesting to slow things down really showed what a healthy relationship this is and how much he cares for Alec. I am a bit worried that they'll follow the books with jealous and biphobic Alec, but let's hope that it will continue to be a healthy and inspiring relationship. Also the way they talked about Lydia was beautiful.
I love how things that seemed really random to me at the time now start to make sense. Like Lydia's awesome yet not necessary to the plot (at least it seemed that way at first) entrance and now the Forsaken attack. I thought it was weird that it was only one and that Valentine didn't send anymore at the Institute, but now we know it wasn't attack for the sake of just attacking. This makes a lot more sense and I like it. Well done writers.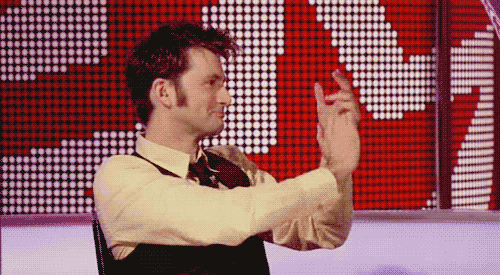 So… Am I the only one who doesn't pronounce Starkweather like Stockweather or something? I don't know it sounded like that when Valentine said it. I'm at the edge of another pronunciation crisis guys. I pronounce it like shark but with a t instead of an h. Please tell me I'm not the only one haha. Anyway Jon Cor did a great job this episode (it was really awkward to watch his scenes with Dom because honestly I still find his acting really stoic, which is a shame because Dom seems like such a lovely person. Honestly watching videos of the cast I feel like Dom himself is more like Jace than tv show Jace lol. Maybe they should have let him keep his accent? Or is it the writers/directors' fault? I really wonder) and he was very convincing. Also I loved that they showed his concern for Clary and Jace when Valentine tells that new Shadowhunter to look for them. I also can't believe it took me 13 episodes to realise they got rid of that crow or raven (whatever it was, it was a black bird haha).
Every time when I think Clary is growing on me, she does something annoying. I get that finding the Book of of the White is not just for your personal gain, and that's it very important, but the way  she talked to Raphael was so condescending. Raphael made some good points and you can't blame him for refusing. It makes sense that you get annoyed, because there's a lot at stake here, but this kind of behaviour is just
But all in all I really liked this finale!
Other things:
The subtle emotion in Simon's eyes when Clary mentions Camille: 👏👏
My bae Lydia had not enough screen time, but she's going to be fine and I assume we'll see her again in season 2, even if it's very short. Alec said she was doing better, but that it was still pretty bad. They can't just leave it at that and not show her being okay okay
The opening felt REALLY out of place this time
Jace made an actually funny joke. It took him almost 13 episodes, but he finally got there
While I'm still not blown away by Kat's acting, I do think she's improved and I love her scenes with Maxime. It feels like a real mother daughter relationship to me
I really prefer the season finale to the book's ending
Does anyone know if David Castro read the books because he's got Raphael down to a tee
I may have gotten to the way portals and magic look, but I will never get over the weird slow motion yet speeding effects when the Shadowhunters fight (which aren't always there??? Please stay consistent)
Simon's 'Yeah well what did you expect she's a vampire' when Clary was all 'she's dead' was me like seriously Clary. She can be really clever, like two episodes ago when she made Valentine believe he had the Cup, when she still did, or she says stuff like this (remember when she thought Luke was her father when it was already established that Valentine was)
'If you want to stake her I will hold her down and let you do it' True friendship right here. Seriously I prefer tv!Climon. Them talking about Jocelyn was also really cute
Izzy-don't-insult-my-ship-Lightwood: 'Say that again- you won't last'
Simon did no one teach you to read important documents like this before you sign them
How did you feel about the finale, and the season in general? Are you excited for season 2? Let me know in the comments!